Fairfield County Weekend Guide 7/10 - 7/12
Never miss a thing in Fairfield County. This includes fun events as we work to return to some level of normalcy. Click on event link to get details and pricing. Will update as more events come in so check back.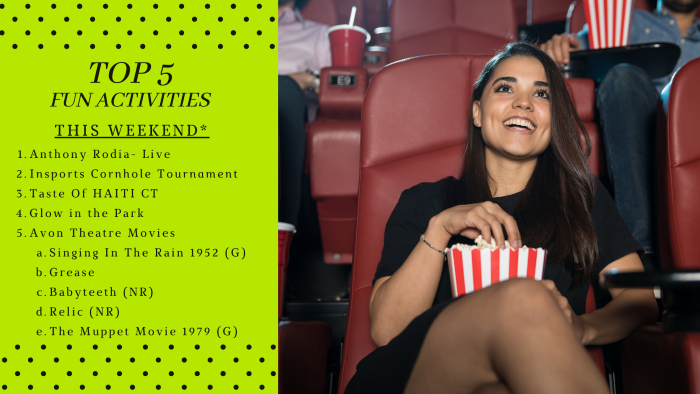 Please join our Local Facebook Group here.
To get your list of events emailed weekly, join us by signing up at the form below! If you have an upcoming Fairfield County event you would like featured, email Jodi at
HERE'S WHAT'S GOING ON THIS WEEKEND:
FRIDAY, JULY 10
SeaQuest Trumbull, 10AM, SeaQuest Trumbull
LIVE MUSIC ON THE PATIOS, 5:30PM - 8PM, BJ Ryan's BanC House
203 Cornhole & Insports Cornhole Tournament, 6:30PM - 11PM, Insports Centers*
Anthony Rodia- Live, 7:30PM, 9:45PM, Vinnie Brand's Stress Factory Comedy Club*
Grease 1978 (G) 42nd Anniversary Screenings, 7:30PM - 9:30PM, Avon Theatre Film Center*
Summer Drive-In Movie Series: Grease, 7:30PM - 11:30PM, Trumbull High School
Hagerty Motor In Movie Night - Greenwich, CT, 7:30PM, 10PM, Lionshare Farm
Relic (NR), 8PM, Avon Theatre Film Center*
SATURDAY, JULY 11
2020 Live Music Series, NOON, Stone Gardens Farm
Norwalk Harbor Lighthouse Cruise, 12PM - 2PM, Norwalk Harbor
Taste Of HAITI CT, 1PM, Westport, CT/Haitian American Networking Group *
The Muppet Movie 1979 (G), 3:30PM, Avon Theatre Film Center *
Babyteeth (NR), 4PM, Avon Theatre Film Center *
Glow in the Park - Summer Series Kick Off, 5PM - 9PM, The Adventure Park at The Discovery Museum *
Singing In The Rain 1952 (G), 7:30PM - 9:30PM, Avon Theatre Film Center *
SUNDAY, JULY 12
Two Roads Poses 2 Pints 2020, 11AM - 1PM, Two Roads Brewing Company
No Strings Attached Debuts at Captain's Cove, 3PM - 7PM, Captain's Cove
MTT Captains' Car Parade, 4PM - 5PM, Metro North Westport Train Station
Matty & The Starfish, 4PM - 7PM, East End Yacht Club