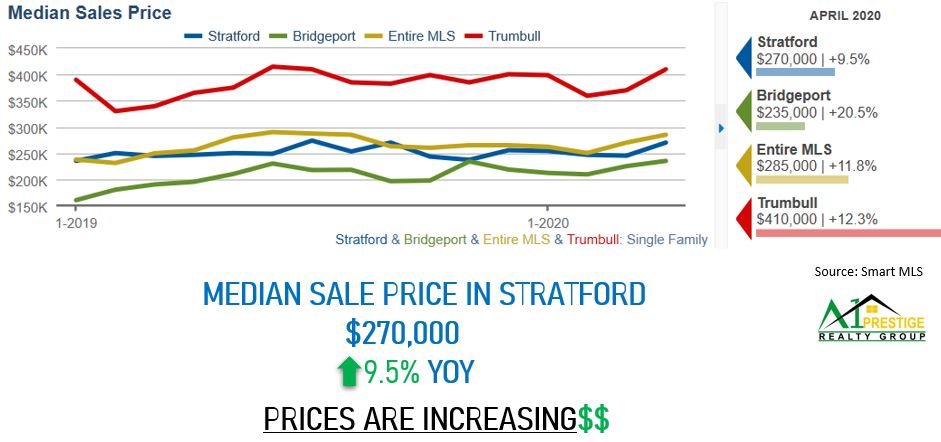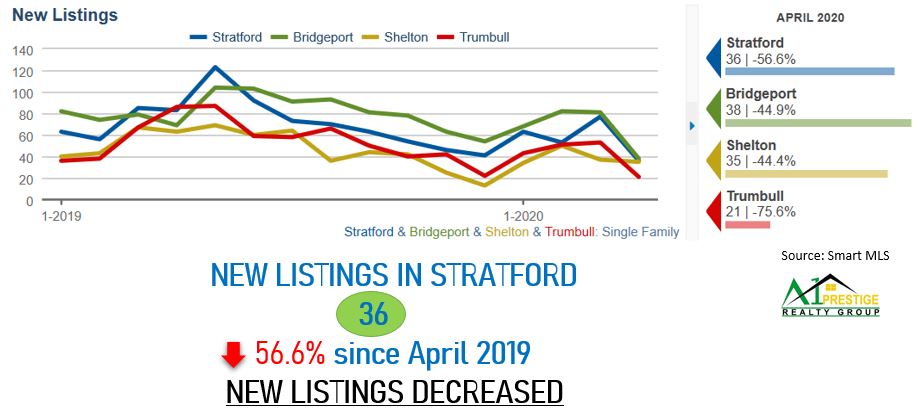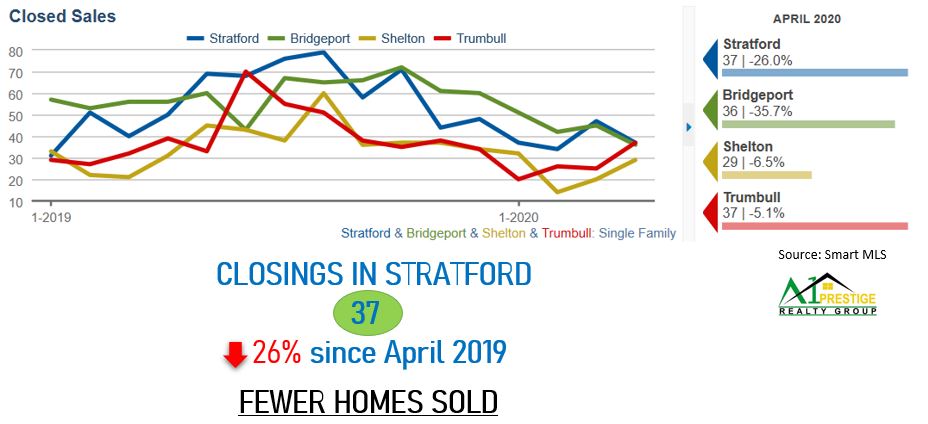 In the previous month's blog, it was noted we did not yet see the full effect of the environment with COVID-19 and the need to practice social distancing and stay home. April's market update has proven that assessment to be in fact correct. In April we saw declines in most of the reported metrics. With that said, the need for shelter and the sale and purchase of homes are considered essential and procedures are in place to safely engage in purchase and sale of real estate.
Observations from the data (Single Family Homes in Stratford):
Sale prices are increasing despite the current environment, which is great for sellers and sellers are receiving on average approximately 98.3% of listing price.
Homes are selling a 33% faster than in April 2019. With that said, will that hold true in May 2020?
The number of new listings in Stratford, CT compared to the previous year has decreased significantly (57%). Not only was there a decrease year over year (YOY) in new listings but also from the previous month (March).
There are fewer homes closing as to be expected as there are fewer inventory available as a result of the pandemic. In Stratford, only 37 homes closed, which was 26% less from the April 2019. Note not all towns experienced the decline. Shelton and Trumbull appeared to have a slight (single digit) decrease YOY and an increase when compared to March 2020.
As we here of plans to reopen the states and steadily return life to normal, if at all possible - how will we fare in the remainder of 2020?
Main Take-aways: The current market seems somewhat favorable for sellers who would like to put their homes on the market and can safely do so. If the home is vacant, a reduced risk exist for the seller as it pertains to exposure to buyers viewing the home. Further more with an increase in median sales price and overall reduction in average days on market this may be the best time to sell, if conditions are right for the seller. Overall, very little competition for sellers and prices are favorable.
Before hiring an agent, evaluate candidates and find the right fit for you. Click link for my reviews
For further information on the steps of the home purchasing process click here or call 203-513-8341
Need help buying or selling your home? We are here to help! Request a meeting with an agent click here
Related Links: